China has rolled out measures to boost consumption, with many industries resuming production and people starting to venture outside more frequently as the novel coronavirus epidemic is gradually brought under control, Chinanews.com reported on March 26.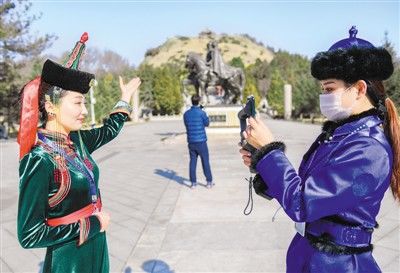 Staff members offer a virtual tour of the Zhaojun Museum to audience in Hohhot, Inner Mongolia autonomous region on March 7, 2020. (Photo/People's Daily)
According to statistics provided by Chinese ticketing company Maoyan, on March 24, about 4.4 percent of China's cinemas, or 495, opened, with the day's box office revenue totaling 27,000 yuan.
Public places in Kunming, Hangzhou, Nanjing and Shenyang cities have resumed work while taking adequate disinfection measures to curb the spread of the coronavirus through cross-infection.
Half of the sport venues in Nanjing, east China's Jiangsu province, had resumed operation by March 19. The director of the city's sports bureau said if the situation permits, indoor swimming pools will also gradually be opened to the public.
Sports facilities will ensure proper ventilation, take effective disinfection measures, operate on flexible schedules and restrict the number of people using them to avoid crowding.
Scenic spots are also receiving more and more tourists. By March 16, a total of 3,714 A-level designated tourist attractions had opened, representing 30 percent of the total that had been closed due to the outbreak. Meanwhile, over 180 museums nationwide have also begun taking bookings and allowing visitors.
Jiangxi in east China will pilot a 2.5-day flexible weekend schedule to encourage officials and employees to take the lead in tourism consumption, while Nanjing will hand out 13 million yuan in vouchers to its citizens to spur spending.
Jinan in east China's Shandong province will issue 20 million yuan in vouchers to citizens to stimulate spending on cultural and tourist products and services, and southwest China's Chongqing municipality is set to host a number of food festivals to boost consumption.
  (Source:en.people.cn)