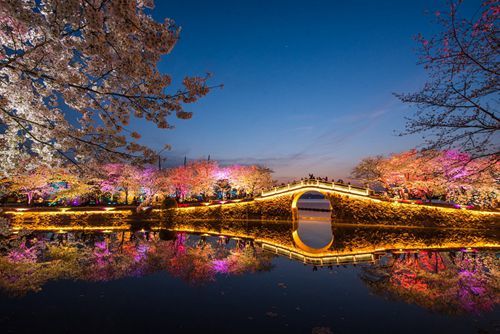 Destinations with flower blossoms are the most popular with travelers to Wuxi in March and April.
The most eye-catching of them all is the Yuantouzhu (Turtle Head Isle) Scenic Spot, which is a peninsula on Wuxi's Taihu Lake, one of the nation's largest freshwater lakes.
Sprouting out of the isle's rolling hills are more than 30,000 cherry trees, making it one of the top three destinations in the world for lovers of cherry blossoms.
This year, Yuantouzhu Scenic Spot introduced a water route which links to another 5A scenic spot, CCTV's Wuxi Movie and TV Production Base, by boat on Taihu Lake, allowing visitors to enjoy one of China's first parks to combine movies and television with tourism as well as splendid views of cherry blossoms along a special route.
Six boat trips are provided each day, including those departing from Three Kingdoms City at CCTV's base at 11 am, 1:30 pm and 3:30 pm, and those leaving from Yuantouzhu Scenic Spot at 12 pm, 2:30 pm and 4:30 pm.
A package ticket for Three Kingdoms City, Yuantouzhu Scenic Spot and a one-way trip on the special water route is 210 yuan ($29.71) per person.
As well, two special bus routes to Yuantouzhu Scenic Spot are provided every weekend from March 21 to May 5, and on Qingming Festival and Labor Day holidays.
The bus route, starting from Meiyuan Station on Wuxi metro line 2 and ending at the Dushan Gate of Yuantouzhu Scenic Spot, runs from 8:30 am to 5 pm. Another bus route runs at the same time, starting from Zhongnan West Road and ending at the Chongshan Gate of Yuantouzhu Scenic Spot.
You can call the hotline to learn about more information: 0510-85555252.
 (Source:chinadaily.com.cn)