The theoretical circle of social sciences in Jiangsu province got together Tuesday afternoon for a seminar on the study of the important speech delivered by President Xi Jinping last Tuesday at a grand rally at Tian'anmen Square in Beijing celebrating the People's Republic of China's 70th anniversary. Wang Yanwen, member of the Standing Committee and Director of the Publicity Department of the Provincial Party Committee, addressed the event.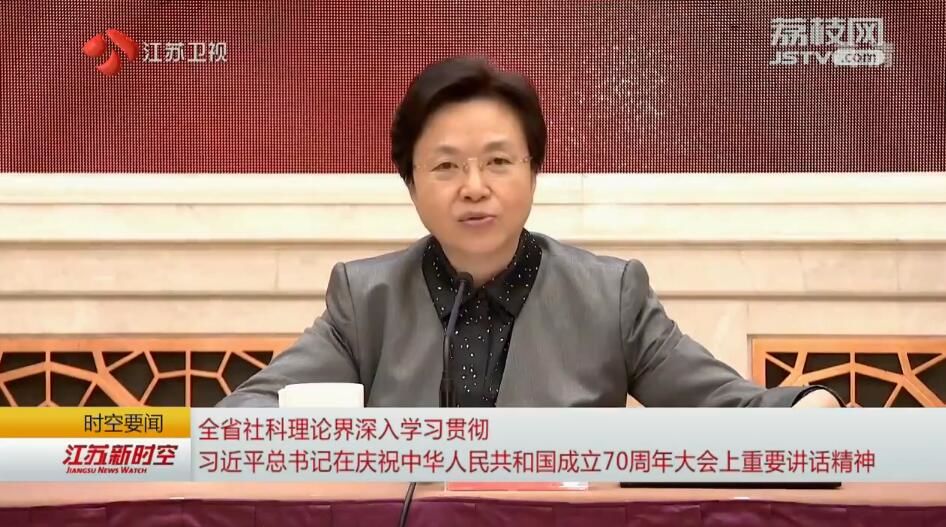 Wang Yanwen pointed out that General Secretary Xi Jinping's important speech at the grand rally celebrating the 70th anniversary of the founding of the People's Republic of China reflects the firm political conviction, strong historical responsibility, and high-level mission pursuit. It is the declaration and mobilization order of the new era to uphold and develop socialism with Chinese characteristics and realize the Chinese nation's great rejuvenation of the Chinese dream, she said.
  The publicity chief urged the social science theory community to further unify thoughts and actions into the General Secretary's spirit of the important speech, effectively enhance political consciousness, self-consciousness, and better assume the responsibility of the mission so as to embark on a new journey in the new era and provide strong theoretical support and intellectual support for the construction of a new Jiangsu.
  Wang Yanwen emphasized that social science theorists should profoundly understand the essence of General Secretary Xi Jinping's important speech, profoundly grasp the historical significance of the founding of New China, the achievements of the achievements of the new China in the past 70 years, and the missions on the road ahead.
  She asked the social science theorists to thoroughly study the major theoretical and practical issues of the 70 years of the new China, and focus on the in-depth study and interpretation of the 70-year basic experience of the new China, the latest achievements of Marxism in China, the socialist road with Chinese characteristics, and the bright future of the great rejuvenation of the Chinese nation.
  She demanded that social science theorists should play a better role in exploring a new journey to realize basic modernization, to be a good-leading flag-raiser, a defender of the people's position, and a devotee who promotes development.
  (source:ourjiangsu.com)